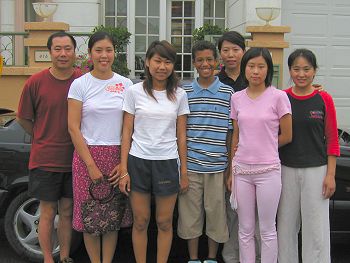 All good things come to an end and my trip to China was unfortunately no exception.
These last two pages have been delegated to Dad as I would not be able to do them myself, so I say goodbye here.
Ryan slept in a little to be able to cope with the 34-hour day ahead of him.
Meanwhile the packaging of Ryan's last stuff was completed and all his pictures and data were copied onto his own new laptop.
He arrived in China with only a small roller but left China (see rollover picture above) with two huge suitcases filled to rim along with an oversized bag and his original roller. Some 71 kilos in all -not counting the hand luggage.
Everyone but Allan (who had gone back to school) lined up for a last photo before the departure to the airport at high noon. From left to right: David, Mary, Annie, Ryan, Liu Jian Ling, Alice and the Aryi.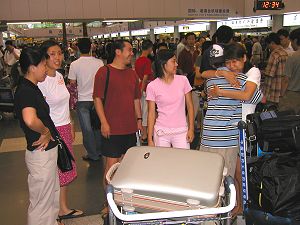 In the airport there was time for a last hug and farewell plus wishes of Ryan's return to China.
Well seated into his comfy seat for his 10-hour flight to Copenhagen, the laptop was put into good use. About halfway across the vast Siberian Steppes Ryan discovered that the Sandman had sneaked onboard as well.
In Copenhagen airport he was greeted at the gate by Dad's sister, Maj-Britt, and after getting the luggage and passing customs those of his Danish part of the family who were not away on holidays met him.
As if the day had not already been long enough, Ryan now went to Tivoli amusement park in the heart of Copenhagen.
On Ryan's request, dinner was the traditional "Danish red sausages with ketchup", which Ryan took a liking to in the Copenhagen airport on his way to Beijing over a month earlier.
The next few hours were spent on Porcelain smashing, bumper cars, roller cars, horse races, pirate ships and candy floss. But it was time to return to the airport hotel and get some ZZZs after the extended day and night.