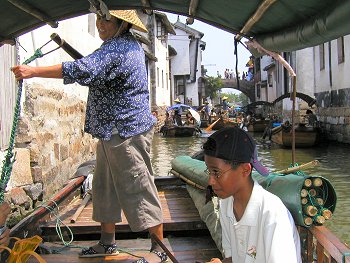 We woke up at 5 am to catch our flight to Shanghai leaving at 8.40 am.
The airport check in was horrible with long lines. The flight was another short flight on a 747.
In Shanghai airport Patricia, one of Dad's colleagues, and our tour guide, Jenny, met us. We drove off towards Zhouzhuang which took one and a half-hour. [Red.: The early wake-up call prompted some extra sleep on the way -see rollover picture above].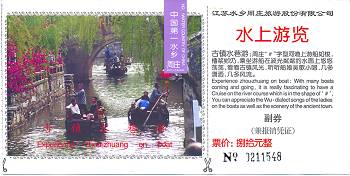 Zhouzhuang is one of the villages in this area, which is also called "the Venice of the East" because of the many small canals traversing the villages. It was a particularly hot and humid day and I was almost melting.
First we went into some typical houses for rich persons from the Qing dynasty. They had many rooms all divided into its own purpose. On the side of all the rooms ran a separate hidden corridor, which was used by the servants. Right through the garden of one of the houses that we saw ran a river, which was directly connected to the large lakes surrounding the Zhouzhuang.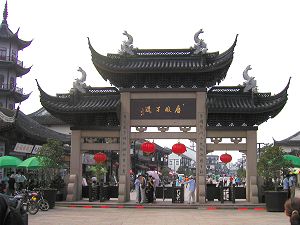 Next we took a boat ride in the canals. Our gondolier was a lady who also sang her home songs for us while rowing the boat. It was a unique experience.
We were now so drenched in perspiration that we went in a desperate search for a teahouse or restaurant with cold air condition. We found it and enjoyed a glass of burning hot tea while cooling off to a nicer temperature.
We drove back to Shanghai and checked in to the Hilton. We had planned dinner at a specialized shrimp and crayfish restaurant, but the waiting list was already long when we arrived at 6 p.m. and our turn would not be for another couple of hours.
Instead we had dinner at Tony Roma's. I had a steak and everybody else had spareribs. Afterwards we topped it off with ice cream and then we left for the hotel.
A good sleep apart from a brief interlude with the bathroom around midnight.