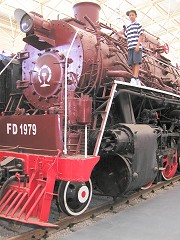 Hazy morning but clear afternoon. Awake, awake! These were the words that I heard this morning as I had to wake up but all I did was fell right back asleep according to Dad. Once being properly awoken I had to quickly have my breakfast and take a shower.
It turned out that we were too late to go to the Zoo so we had a change of plans. We all went up to the dentist to drop off Dad. After that we went up the street and were dropped off at a long row of indoor shops to find me some more clothes.
We bought one shirt and some other souvenirs and left the complex.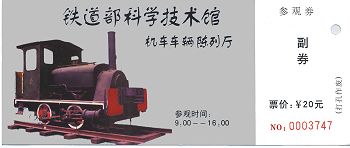 The train museum was next on the list. The museum was in a large, new exhibition hall the size of ten football fields side by side. Right as we arrived, Mom called (see picture).
Once we entered I immediately began to use my sneaker wheels around the nice smooth floors.
There were many locomotives and railcars on many parallel tracks indoors. Standing right next to the locomotives you really realize how gigantic they are.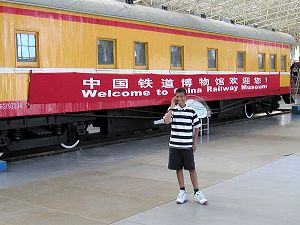 The car that impressed me the most was the prior Prime Minister's personal railcar with his own bedrooms and huge bathroom -not to mention his office- and relaxation room. There was one more train that really impressed me which was a locomotive in a rusty colored paint (see picture at top of the page of child standing on top).
Having endured the heat we awarded ourselves a single scoop of ice-cream (all right, maybe it was 4-5 scoops each!!) in a nearby hotel. While there we spotted a famous Chinese actress by the name of 'we don't know' and I even managed to get a picture with her.
Dinner was a treat at the local Japanese restaurant in the Club House.
It was a spectacular show of skill and talent in cooking and the food was definitely some of the best I have had since I arrived. While watching large quantities of fire on top of the cooking plate and actually eating the food I have to say that it was absolutely splendid.
I am really enjoying myself Mom. Just look up and see what I mean on the pictures. Enjoy your afternoon.
Time go to bed. We have to get up early tomorrow as we are going on an outing.