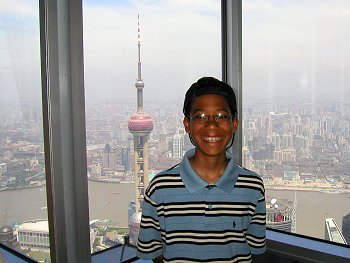 The day started off with breakfast at 9 am.
Patricia and Wendy (two of Dad's colleagues) met us in the lobby and took us to Jin Mao tower on the western side of Huangpu River. We took the high-speed elevator up top the observation deck on the 88th floor.
In each window there was a name of a city and distance from the tower to it. From as far as Los Angeles (10,453 kilometers) to as close as to the Bank of China building (0.5 kilometers).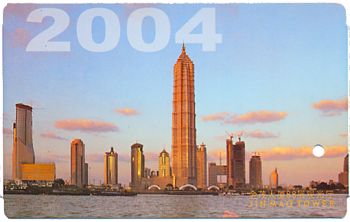 By looking in another direction you could see the TV tower, which is slightly taller than Jin Mao because of the broadcasting pole on top.
In the center of the observation deck you could look down all the way through the hotel section (see picture).
We tried to drive over to the TV tower but we couldn't since all the streets were closed off for racetrack practice. I could just see some of the racecars passing by behind the fence. They were extremely noisy.
Instead our next stop was a detour to lunch, which was an exquisite Chinese restaurant. You entered through some sliding doors and you walked down a path with water on both sides into another mirror being another sliding door.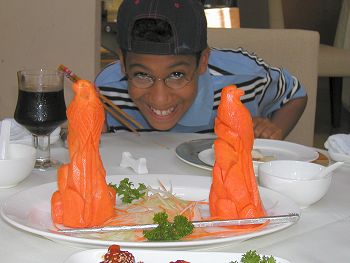 One of the dishes was thinly sliced foul. They were served on a horizontal pole resting on two carrots carved as birds (see picture).
We had many other interesting dishes. One of them was a bowl with natural plant oil and three rocks at the bottom. It only started to cook when the waitress poured the vegetables into the oil. We had to hold our napkins up in front of our faces to prevent being burnt by the oil.
It was time to go to the Shanghai Museum. The building was shaped as an ancient food vessel and held five floors.
First we saw old Chinese paintings. The light in the display case was always dimmed until somebody walked up to it at which time it would automatically brighten. The reason being that this would protect the paintings from deteriorating from an unnecessary light.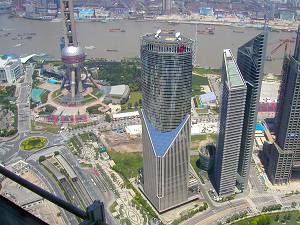 On the way to the next area Patricia's parents brought Patricia's daughter, Rainbow.
Now we saw all the ancient coins used in China since earliest days. They used shells, gold and other metals. They were shaped like spades, harvesting tools and regular, circular coins. Common for all of the coins was that they had a hole in the center so that they could be put on a string.
Later we saw the calligraphy and then we went to the seals.
Afterwards we took a walk on the famous Bund to take in the scenery. There were many ships and barges in the river.
At the end of the day we went to an old Chinese restaurant where we enjoyed a good dinner.