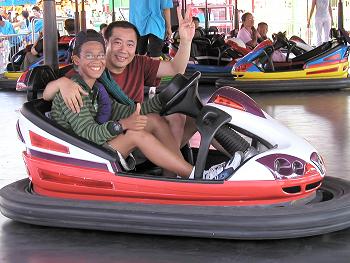 This was my last full day in China.
It was left for me to decide what we would do for this day and I chose the American amusement park, which was visiting Beijing for the summer.
Luckily, the weather turned out to be perfect with a clear sky and bright sunshine.
We left at 11 am and drove all the way for almost an hour to the western part of Beijing, near to the TV tower.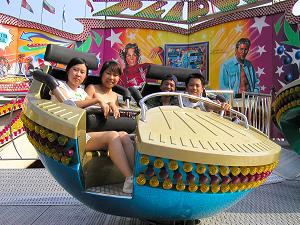 We met up with Annie and Mary's uncle at the parking lot and arrived at the ticket counter just as the park opened for the day.
There were many great attractions and we tried most of them.
The 3D Maze of Terror was great and so were The Beast (see picture where it is about to eat me) and the bumper cars.
They didn't have the typical American large roller coaster but the one they had was OK (see picture).
Dinner was my favorite crayfish -lots and lots of them.
Since it was my last day, I decided that we eat outside on the patio. It was very hot and humid and suddenly we had to move the rest of the dinner indoors since a huge rain shower came out of nowhere and drenched us.
Dad packed the second suitcase and the bag and now it's off to sleep in Beijing for my last night here this time.