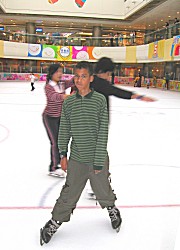 Sleepyhead until 10 am!! Dad let me sleep in this morning. To be honest I didn't even feel the difference.
I woke up to action all around. First on my agenda I of course had to eat. Then I spent some time burning some rubber off my remote controlled cars outside since it wasn't raining anymore. Whilst being attacked by large dragonflies I was able to go around the block twice until I had to return to take my shower.
After I had taken my shower I immediately rushed down to venture out again with my remote controlled cars.
I had to catch a shuttle bus at 2pm to reach Dad's office. Once there I went to the ice skating rink to try my luck on skates. It turned out that I got the hang of it really quick. It was one of those sort of things where you just have to get the hang of how you move and how you balance yourself.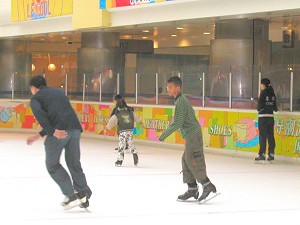 Afterwards I went to my Dad's office on the 30th floor. I was shown around by one of the members of staff and then we left and went to eat dinner at a Korean restaurant.
Once we were seated we were given some coal to put in our stove. just after we got our coal we were served our beef and had them cooked by our waiter. we started to cook our own food, which was squid, beef and other flavorings. The food was delicious!
After that we headed home until we got to this precise moment in time. See Ya Later!!!!!!!!!!!!!!!!!!!!!!!!!!!!!!!!!!!!