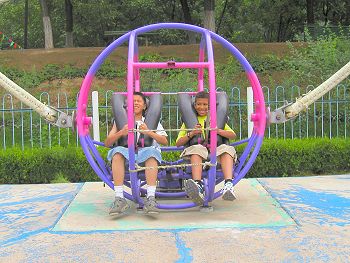 Early awakening to go an outing with Mary's uncle and friends. We had to take showers and get dressed with no time to spare.
We met the rest at the gate of the compound and took off in three cars going north. Traffic was very heavy so driving was difficult but manageable.
Arrival at Yanqi Lake Amusement Park about 10 am. We got the entry tickets and then on to the first activity: Off road go-carting. They weren't exactly the quickest of them all but they definitely got the job done (thrilling me!!).
Then we went on a boat ride, but were disappointed that we couldn't steer the boat ourselves. So we went to the next boating offer where we got a speedboat that I could steer myself at full speed. See picture where I am in a steep turn!!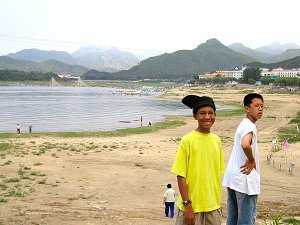 After this great boat ride we decided to take a look at everybody's new hairstyles (see the sidebar -get my point?).
Once we left the boat we made our way over to the swimming pool to take a dip and cool off in the lake.
On the way next to the "death ball of doom" I managed to get a second spin around the off road go-cart. I kept my eyes closed as I was shot up in the air in the ball. I clung on for dear life !!!
Time for a Chinese lunch followed by some great exercise of badminton.
Now on to the highlight of the day: The one that got away. The evil little fishy of prime, I really wanted to make him mine. But he left with his swift little tail and I was left to no avail.
Whatever that means, we still managed to catch a monster fish (see the picture and don't be shocked -it's only the truth).
Back home for dinner -take out from the Club House in the thunder and rain and flooded streets.
Good night and remember the truth is out there... Until next time.