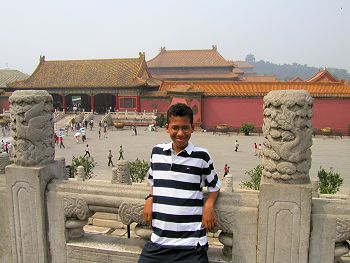 Up at 7 am to French toast -Hurrah! We had to leave early so we took our showers last night to save time.
We met one of my Dad's colleagues, Hardy, at a building only occupied by computer stores and computer accessories. We were searching for an LCD screen for Dad, games for me and memory sticks and computer mice for us all.
I got a pretty nifty mouse and Dad got a neat screen. The memory sticks were expensive but still sold out.
We stayed there for 3 hours and decided that it was time to grab a quick burger at McDonald's. I had my usual hamburger, vanilla milkshake, a vanilla soft ice and apple pie.
So we moved on to the final destination in the heart of Beijing: The Forbidden City.
Once we arrived we entered through the southern gate, Wumen, and came into the large courtyard with the magnificent river curling through it. The doors all had nine rows and nine columns of large nails on them, nine being the "highest" digit reserved for exclusive use on gates by the emperor.
There were areas where the original rooms had been left almost intact with the original furniture and decorations. We also saw the bedrooms of the concubines (the emperor's wives). Mom called while I was in one of these courtyards (see picture).
We walked further through many gates to approach the three main halls to observe this spectacular sight.
There was also an exhibition of beautiful drinking vessels (see The mouse-over picture under the top one).
Afterwards we moved on to the emperor's garden, which was a grand sight to see. There were special trees that were grown together and as time had gone by they have made a sign of good luck in marriage since it looks like a man and a woman together.
There were many pavilions (a place for relaxation, music playing, reading and generally just for shade) in the emperor's garden. There was also a spectacular hill made of rocks kitted together.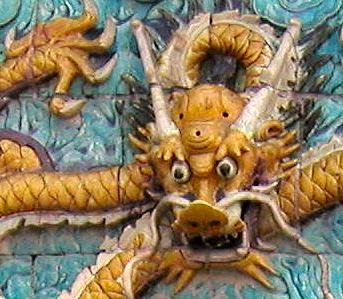 We also went to see the famous "Nine Dragon Wall". I took some photos in front of it. As you can see in the picture, the expressions are hard to understand.
We made our way to the northern gate, Shenwumen. We got back in the car and went home, greeted by more thunderstorms and were forced to call off our planned barbecue and instead eat rice with beef. It was still a good meal and I did enjoy it. Hopefully we might be able to have our barbeque another time. The streets were totally drenched during the heavy showers but it all dried in two hours.