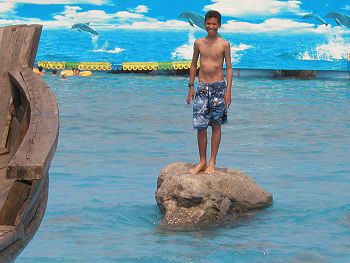 Another day of great swimming and lots of fun at Crab Island.
Mary's uncle met us at the house and we immediately left for Crab Island at 10:00am.
When we had all bought our tickets I ran into the water and got myself all wet. Alice went and rented four rubber donut rings. After taking on the wave pool a few times we moved on to the small pool area. We all played around in the water throwing a ball around in a match with three per side.
After a small rest I told dad that I wanted to try an attraction, namely the hot air balloon ride.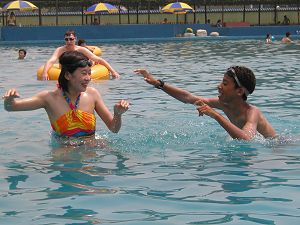 First I wanted to go up with Dad but the attendants said that he was too heavy so Mary went instead. They made the balloon sway forth and back once we were high in the air so both Mary and I got nauseous.
Then Mary's uncle and Allan tried the rubber jump rope after which we left for home.
Dad was the cook of the night since he grilled the steaks. It started to rain in the middle of the grilling but luckily it quickly passed so the steaks were saved.
After dinner her uncle left and we drove up to a nearby store where Liu Jian Ling was waiting with her dog. We had brought the leftover meat so her dog was very happy.
Back home again it was time to do my homework and go to sleep after watching a movie.