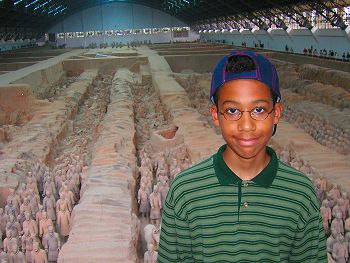 We woke up extremely early because we had to catch a plane leaving Beijing airport at 7:30 am.
Our things were packed the night before so there was no rush in getting ready. I was the only one offered breakfast in the house but everybody else ate on the plane.
This was Annie's first time on an airplane, so she was very excited. Annie is Mary's cousin, but she calls her sister.
When we arrived in Xi'an we were met in the airport by Mr. Xiao, a local archaeologist that Dad knows.
The first thing we had to do was to see the famous Terracotta Warriors so we drove straight from the airport to that area.
But before we went there we made a detour to a less famous and very unknown but highly interesting excavation located deep into a pomegranate plantation.
We entered the well-hidden dig site and saw some fantastic coats of mail (a special armor with looped rings to deflect arrows). We also saw a map on which you could see all the dig sites and burial places around the tomb mound of China's first emperor, Qin Shi Huang.
We were even permitted to go down some wooden stairs to the bottom of the pit in which they were still in process of excavating even more coats of mail.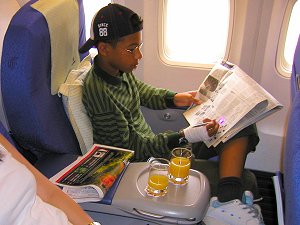 Now on to the famous Terracotta Warriors. From the parking lot we had to walk a long winding footpath to reach the actual entrance.
We first saw a special 360-degree movie on the Terracotta Warriors, how they were made and how they were destroyed. I also got a book signed by the man who actually discovered the figures. By watching the movie it made it easier to understand why the terracotta figures were in the condition that they were and who had done the damage.
Next to the theater was the colossal hall that held most of the warriors. It was a magnificent sight to see. All the warriors were lined up next top and behind each other.
Each one had its own unique head because their heads were individually made by an artist who would make an identical face to the soldiers heads.
We walked around the hall and looked at the different types of warriors from archers to spearmen. Most of the soldiers have never been unearthed because if done then the coloration would disappear within a few hours.
We also saw an area in back of the hall where archaeologists put the pieces together of warriors and horses.
We went to two more halls that held generals and army headquarters.
On to a late lunch at McDonald's and then on to some shopping in the old quarters of Xi'an. I got myself some terracotta figures and some bugs necklaces.
Now we went over to check in to the hotel. Across from the hotel was Xi'an's complete city wall and gates and that's where we went next.
We rode bikes on top of the wall until it was time for dinner. I was so eager in racing that I ripped the skin off the end of my thumb on the same hand where I earlier hurt myself on the skateboard.
It hurt a lot so we went to a pharmacy where Dad got some medicine and Band-Aid and fixed it right there and then in the store.
Dinner was a treat: Hotpot, Beijing style.