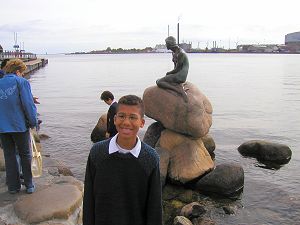 No rest for the weary!! Daddy woke Ryan up already at 6 am for an early start of the day.
The day's program started with a quick and condensed Copenhagen sightseeing. So out to Maj-Britt, Daddy's sister, and borrow their car to be more mobile.
First stop at the Little Mermaid although Ryan was more interested in roaming the water's edge for Jellyfish. Next was a visit to the old Citadel and a good walk on the battlements. Then a visit to the Danish Resistance Museum followed by a rest and a cup of hot chocolate.
Time still allowed for a visit to Amalienborg, the Queen's castle and then a quick tour of the castle of Rosenberg and the Royal Treasure Hall.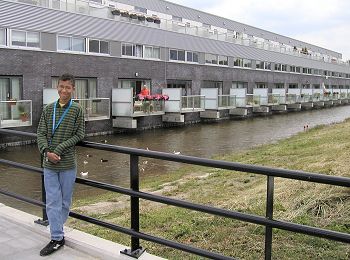 On the way to an afternoon invitation at aunt Maj-Britt and her husband Benny we passed by the Royal Mint, the Danish Parliament at Christiansborg, the National Museum, Tivoli and the Central Railstation.
The afternoon held a reunion with a few of Ryan's Danish family, a lunch (Ryan likes shrimp and white asparagus) and some kicking football in the garden.
Aunt Maj-Britt drove us to the airport where we also met Ronnie, friend of niece Merete. After check-in and immigration there was time to try a typical Danish red sausage, which turned out to be pleasing for Ryan's palette.
Boarding was slow but uneventful and well seated in his "automatic" seat, Ryan departed from Copenhagen on time on the 10 hour flight to Beijing on SK995.
Not overly hungry but eager to use Dady's laptop to play on, dinner was quickly dispensed with (milk -not Cola- and on own request! Wow!). Predictably, the game only lasted for some 5 minutes because sand got into the eyes forcing them shut while continuing at 33,000 feet and 900 km/hour over the wide steppes of Russia towards Mongolia and China.