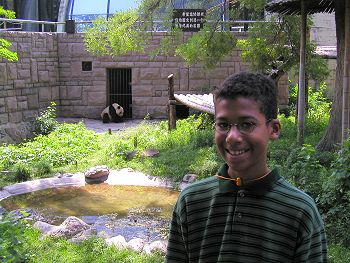 Dad woke me up at 5.30 am as I had asked for but I went right back to sleep and woke up again at 7.30 am.
We took off for the Zoo at 9 am and went straight to see the famous Pandas. They weren't very active at the time but we still got a couple of good pictures.
Next were the monkey island where we fed some of the monkeys with some special monkey food (none of the monkeys really liked it).
Afterwards we made our way over to the petting zoo and on the way we passed by the kangaroos, lions, tigers, (no bears), giraffes and some more mammals and birds.
At the petting zoo we got some food to feed the wide range of animals. They were goats, sheep, camels, ponies, rabbits and many species of birds.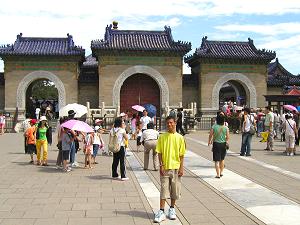 On our way out of the zoo we witnessed a small accident between and taxi.
After lunch we went to The Pearl Market again to buy various items. I really wanted to have my own Chinese seal made and after some bargaining we got a good deal. The seal was made while I looked at it (see picture).
Dad also bought me a skateboard so I could use the local skate park of our compound. He also got me a kite and I now have to demonstrate my great skills in kite flying.
Dinner was in a local Chinese restaurant but the power was lost for the entire town so cooking was no longer an option there. Instead we went to an airport hotel and had some great buffet.