Today I got up at 7:30am after having been woken up three times. We had to go to a fish market to buy some crayfish.
Once we arrived we were able to see what sort of things they had there. It was a huge hall with two main sections, the meat section and the fish section.
I ventured out to see what I could find. There was every sort of creature you could imagine from cows' heads to pig's feet, from turtles to eels, everything was there!

We found the stall that had the crayfish we needed. We bought 10 kg of the best they had and it sure was good.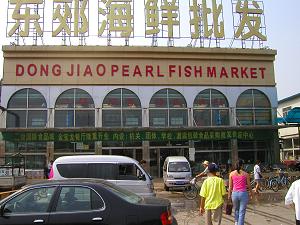 While they were being prepared I walked around and looked at the other interesting things for sale. I held a turtle and a shrimp and I touched a disgusting, shaved sheep's head (see picture) and heart. It was squishy and nasty.
Afterwards we went to look at an 800 years old lock. As seen in the picture the lock has a special slot for metal pegs to be inserted into a stone with a matching carving. This held the large stones together.
Once we had seen this we returned home and stayed there all day. In the evening we enjoyed the crayfish.
Next update will not be until I return from Xi'an in four days.
PS: In the afternoon I managed to fall off my skateboard and give myself a nasty surface wound, but I'm OK now.