Place your mouse on any photo to pause slide show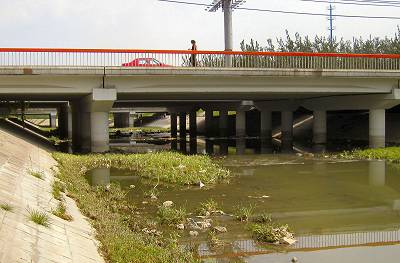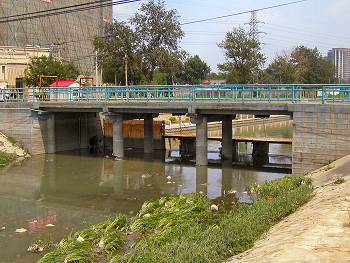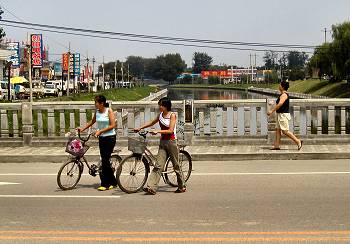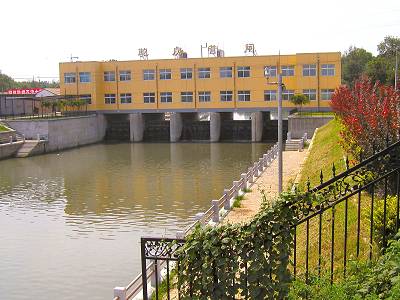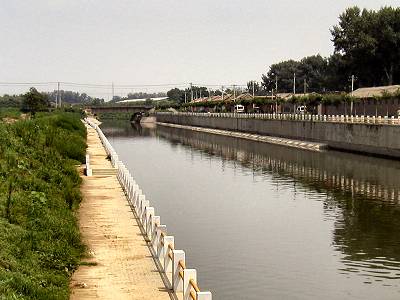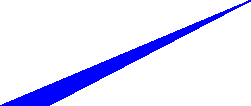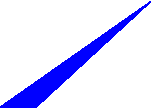 Ba River now trickles past the rapidly expanding urban sprawl -seen on both sides of the picture. Only liquid source is waste water piped into the concrete river bed -front right on the photo. Weather and humans add various pollutants and garbage on top.

The picture (7/2005 -facing north-northeast) shows how the lack of water allows the grass to grow undisturbed. Beijing's suburbs are now for the first time peeking up in the background.

This photo looking south south-east shows the river seeping under two of Beijing's main NE expressways. In the front with the red car and pedestrians on top is Jin Shun Lu. In the rear the bridge over the Airport Expressway is clearly visible as are some people walking on the far bank under that bridge.

After passing under the Airport Expressway the river bends slightly northwards and passes under yet another main Beijing traffic roadway -the 4th Ring Road (see the underlying map)..

The river continues through Beijing's northeastern suburbs. Water level remains very low and the smell of the river is far from suitable for a picnic.

The sluice on the photo backs up water until the Tuo Fang Ying Sluice further downstream ensuring a higher water level between the two sluices. The construction project on the left of the photo warns that even here the city is encroaching.

Now with a more plentiful amount of water, Bahe takes on more of the gentle look of a city river that one would expect.

On this photo looking east the river flows under the last suburban highway and the last clustered businesses line both banks.

The entire northern bank is now landscaped into a popular recreational park. The river carries plenty of water and has no foul odours.

Small winding roads, great for a romantic stroll through the park, lead to a narrow pedestrian bridge or back to "civilization" still visible in the background on this westward looking photo.

This sluice is instrumental in securing the nice water level in the park area. Water management has wisely taken advantage of the sluice and has established offices on top thereof.

The sluice also marks the point from where the river with very few exceptions is just that -a river. But beware, new constructions are already popping up relatively close to the sluice. The picture looks west, i.e. upstream.

This photo looking east and taken from the Tuo Fang Ying Sluice shows the river passing under the north-south railroad line east of Beijing. The railroad bridge crossing the river can be seen in the rear of the photo.

Note that small rural, walled communities hug the southern bank (right side of photo) whereas the northern bank now basically just carries natural vegetation.