Place your mouse on any photo to pause slide show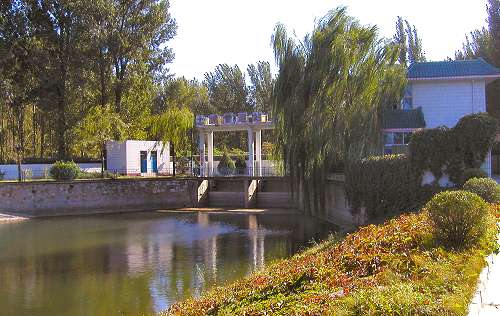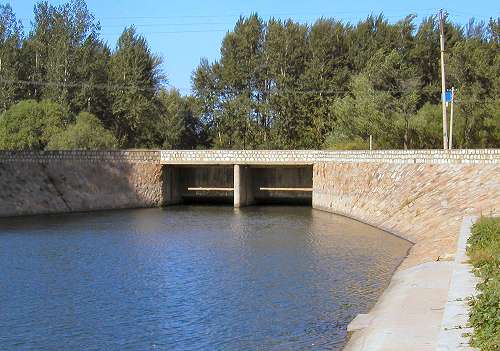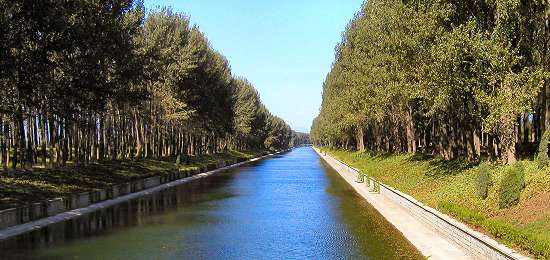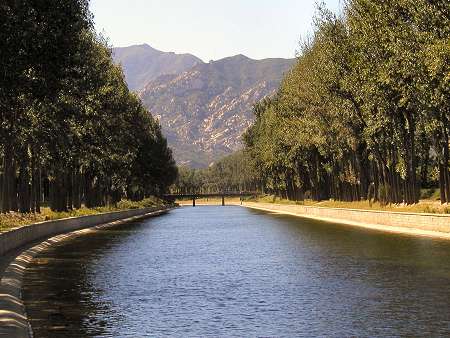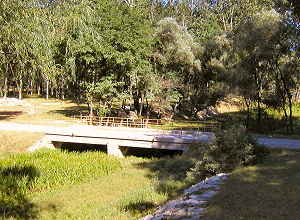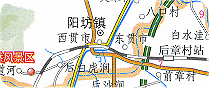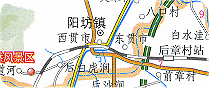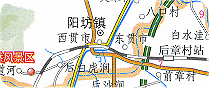 (1/6)
The large photo shows what you meet at the 72 km marker: Yet another abrupt termination of the canal. A weeping willow decorates the pump house on the right.

You know by now to look for the other end close by, but instead you find a major, wide highway. That is the orange colored road on the map.

Roaming further afield you find water again. But it is not the canal! It is not just one, but two small rivers! So we pursue the larger of them (below)
(2/6)
Lo and behold! Deep within a small grove a low, narrow bridge crosses the river right next to an embankment reinforced with concrete (see the smaller photo).

You follow the dirt road up the embankment and Eureka! -at the top the Baifu Canal is rediscovered. Some 200 meters away from where it disappeared underground.

The larger photo shows the "dead end" before the 200+ meter gap. It also witnesses that there is still plenty of water in this section of the canal.
(3/6)
Apart from one soft bend the canal now flows almost straight for almost two kilometers in a south-southwestern direction. Tall beach trees gracefully line both banks the entire stretch.

Major road constructions (fall 2005) of Beijing Ring Road 6 makes is rather difficult to find this section. With some persistence and a sense of direction however, one can find the canal and snap the photo shown here. It faces north-northeast.
(4/6)
Baifu Canal now makes a sharp 45 degree bend heading straight west. And right across the bend the rail road crosses the canal.

So what is the challenge? Well, the main road that runs along the western bank of the canal is closed for construction going northwards from this point.

The only alternative is therefore to follow another major traffic ore heading east (orange on the map) until you can find your way back to the canal through a series of unmarked, small village and rural roads.
(5/6)
Baifu Canal now for the last time flows straight west. It is only a short 200-250 meters stretch but that is just enough to enable a photo with the beautiful backdrop of the Western Hills.

The bridge at the far end of this section carries the main north-south traffic into Beijing west of Badaling Expressway.

The arrow points to the beginning of the Western Hills.
(6/6)
Now the canal turns 45 degrees changing from a westbound to a southbound direction. The rail road runs on top of the embankment on the left of the picture. The road in the foreground runs (behind the camera) alongside the canal all the way south to the Summer Palace in Beijing's northwestern outskirts.

Even though Baifu Canal still runs a little further west, this bend is the closest that it comes to the Western Hills.

Guo Shou Jing exploited to the fullest the elevation that these hills offered -evidenced by the wide westward swing the entire canal makes.