A swift Southwest Air flight from Las Vegas to Burbank airport in California's San Fernando Valley whisks you to the illusion center of the world: The Hollywood studios.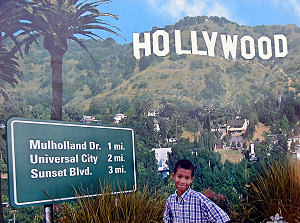 Universal and Warner Brothers lie snugly next to each other producing massive amounts of tricks and illusions for movie fans all over the world. Universal Studios are in the front of the above picture and Warner Brothers is the cluster of low, white buildings located between the two text lines.
Unless you are an actor or actress you probably won't get to see Warner, but you can visit Universal Studios as well as its theme park on the premises.
It's very much a "family affair". There are enough sights, entertainment, adventures and rides to spend a couple of days. If you only have one day, then get the special Director's Pass ("Gate A") which will allow you to bypass the sometimes long waiting lines. With this pass in hand you can comfortably make all the main rides from the morning to the evening. And you won't have to worry about your excited but impatient youngsters. The number of passes are limited per day so get to the ticket booths early!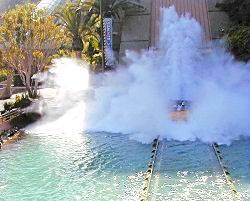 Kids can get soaked and soak each other in massive amounts of water in the Nickelodeon area (bring some spare dry clothes).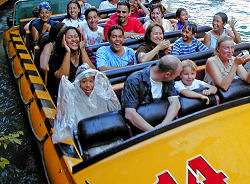 The great Jurassic Park ride is guaranteed to get young and old drenched as well after your long slide down in the big pool of water -poncho or no poncho.
It's Ryan far left in the front seat (-in poncho) after having been drenched in water on the way down the slope.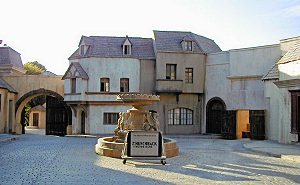 Animal lovers will enjoy the "Animal Planet Live" show and high tech fans the "Terminator 2 3D" mixture of acting and movie. The walk-through Egyptian pyramid tomb will scare many. Those with nostalgic inclination will enjoy a live performance of (actor) Blues Brothers.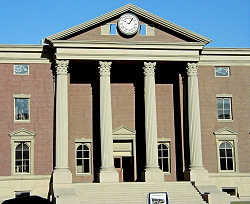 The studio tour will revive all your memories of old movies and shows. You'll get a chance to see the props and sets used for many famous movies. There is "Little Europe" (see picture above) -a bunch of facades which in little time can be transformed to anywhere, any-country Europe.
The same goes for the facades for Amityville (Jaws), Wild West (hundreds of Westerns), New York, "Any Suburb USA", "Back to the Future", etc. etc. On the right is the famous clock tower which was struck by lightning in the "Back to the Future" movies.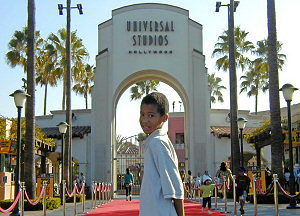 Unfortunately I do not receive any commission from Universal for promoting them and nor do I earn any advertising fees, but it is indeed a day with great fun for you and your kids.
The visit will set you back a few hundred dollars, but it's worth it. Ryan enjoyed every second of it!
Here he is in front of the entrance...