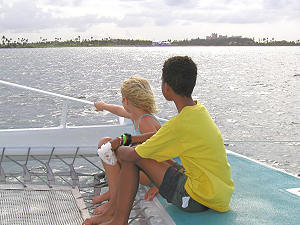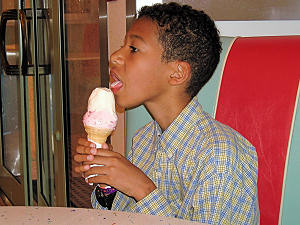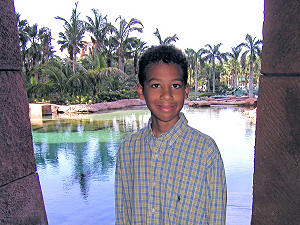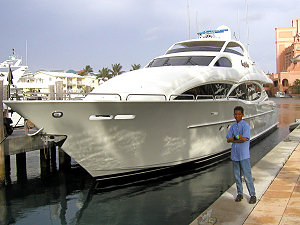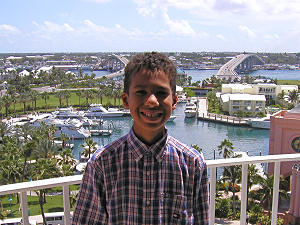 Sipping refreshing drinks while basking in the shade of palm trees on a white, sandy beach! And when it gets too hot taking a quick dip in the ocean, floating lazily back onto the beach in the gentle surf. That's the stuff dreams are made of.
But this dream is real on Paradise Island in The Bahamas !
Great! How do I get there?Easy! It takes just one or two stops. First stop will be your local airport and the other stop is the US transit airport from where you fly straight to Nassau airport on New Providence Island, The Bahamas.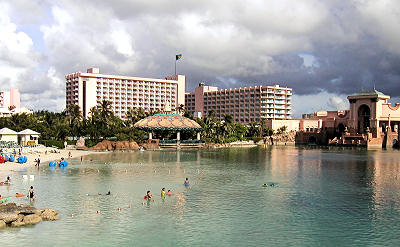 Atlantis resort - Lagoon view
Where do I stay? You best realize your miracle dream in the mother resort of resorts, the Atlantis, on Paradise Island right North of Nassau (see map below). It takes 1/2 hour from the airport to get to Nassau city and another 5-10 minutes drive from downtown Nassau to Atlantis on Paradise Island.
Are you nuts? Look at it! I'm no millionaire! Well neither am I, but if you've got a good travel agent or if you are sharp on checking Atlantis' own internet site for bargains you can spend a cool week that won't cost you your life savings (as investment in stocks could these days). There are several "hotels" inside the resort and since you intend to spend your time away from your room then don't blow your funds on "Executive Suites" or "Sea view", right? Guess yourself what Atlantis' internet site is called... Oh, and by the way, if you were a millionaire then you'd be docking in Atlantis' exclusive marina in which case you can forget all about airports and reserving rooms.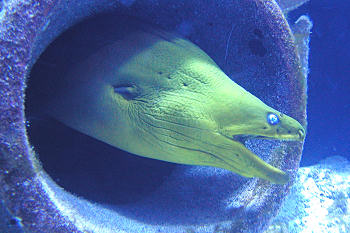 Atlantis resort - "The Dig"
Got it. The room is "out". What else can this resort offer? Apart from the usual amenities like restaurants, shops, etc. there is perfect access to lagoon water sports, in-house water slides and, obviously, kilometers of beautiful ocean sand beach. Local beach boys will offer you jet ski rides, paragliding, souvenirs, drinks and what have you. If you are interested in marine life, the resort has a huge maze of underground corridors ("The Dig") where you can explore over 150 species of exotic tropical fish from stingrays via sharks and piranhas to moray eels. In these corridors you can also explore the fabled world of Atlantis -long lost in time and on no map.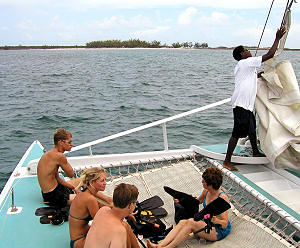 Coming up on the reef
and getting ready for some serious snorkeling
And what do I do when I'm tired of the resort? Then you join some of the water activities away from the resort which you incidentally can all book in the hotel lobby so you can be real lazy. You can go scuba diving, snorkel on tropical reefs, swim with dolphins or go island hopping by helicopter. If you have spare money to burn then you can also tour Nassau by horse-drawn surrey and look for bargains in the tourist shops. How about a straw hat or a straw basket?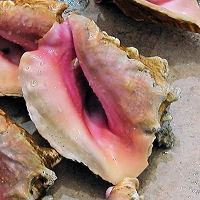 Queen conch - an aphrodisiac?
All that water sport makes me hungry. Any local dishes? Of course there is: the Queen Conch. Every morning you'll see numerous small Bahamian vessels going "conching" -fishing for the strangely shaped mollusk housed in its beautiful pink shell. You can eat it raw, steamed, stewed, sauced, smoked and any other way you can think of. Eating conch (pronounced 'conk') will take care of your hunger but also be warned that all Bahamian men will swear that the conch's reputation for being an aphrodisiac is a fact!
This is a vacation spot so let's get history over with quickly, please . The islands are all too well known for the notorious pirates who frequented the area to ambush rich merchant vessels back in the 16th and 17th centuries.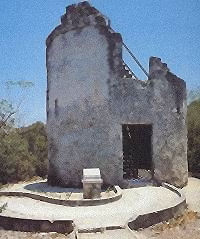 Black beard's watch tower

The islands' coast lines with their numerous bays, canals and natural ports served as an excellent refuge and starting point for the buccaneers' raids. On New Providence island you can still see "Black beard's Tower" from where it is rumored that the infamous and feared pirate Edward "Blackbeard" Teach kept a lookout for passing ships to plunder.
If fortresses are your game, then there are many to be explored on the main islands -complete with dungeons and cannons, but as promised enough expansion of the mind for now! Oh sorry, there was also the part about the German submarines and the American slave ships and the gunrunners and the drug smugglers and..... OK OK OK, I'll stop here.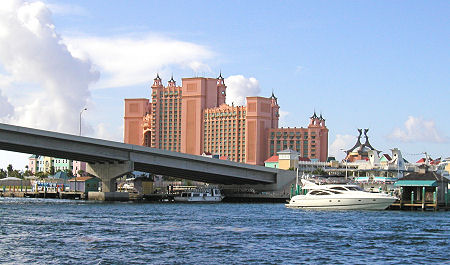 Atlantis resort seen from New Providence Island
Burned out by water sports and the sun. Anything else I should know? In that case the gift shop sells soothing cream for sunburns. For the night owls Nassau certainly has modern days discos and Karaoke bars. If you feel lucky then you could also make some bets at Atlantis' full fledged casino including roulette, craps, blackjack, slots and so on.
If you are fascinated by names then look at the below map of The Bahamas where I have highlighted some of the exotic names like Snug Corner, Pirates Well, The Bluff, Burnt Ground and many many more. Check it out. Above all, Bahamas still offers the rare commodities of clean air and clean water which in themselves is a break for most of us metropolitan city dwellers. Good snorkeling!