My many business trips to Japan typically took me to cities like Tokyo, Osaka, Nagasaki, etc.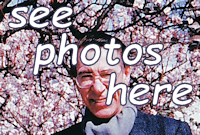 So when in 1999 I finally had a chance to visit Japan for personal vacation I avoided the mainstream places and instead chose Nagano. This city had already planted itself solidly on the world map when the 1998 Olympic winter games were held here.
I spent the days visiting temples, walking the streets and going up into the mountains. It was early April and the cherry trees were in full blossom -a sight that all should see. Snow was still lying deep up in the mountains this late in spring. A great contrast.
The images are scanned and hence not the finest quality. Sorry!